All of the finishes we use are 100% natural, organic and food safe.
Simply Rooted Woodshop began in 2013 and has grown since with retail partners located throughout Canada.
Our products are handcrafted with care, integrity and attention to detail, just the way it should be.
Live Edge Bowls
Locally Sourced
Our live edge bowl is a harmonious compromise between the functionality of our traditional bowls, and a greater representation and connection to nature.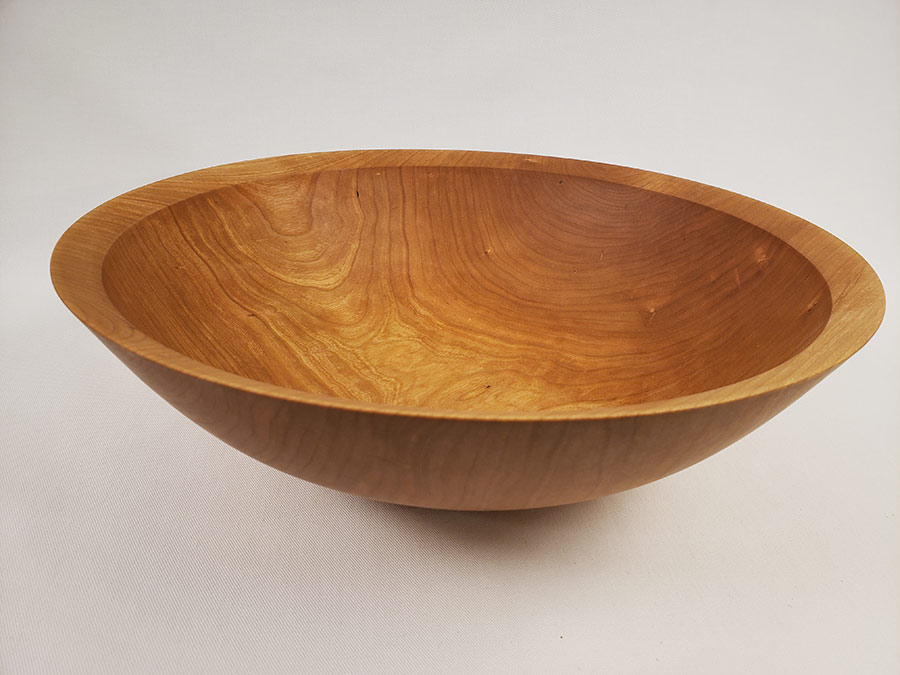 Traditional Bowls
Locally Sourced
Our traditional bowls represent the quintessential bowl, representing what people often think of as a "wood bowl" or "salad bowl".
Square Bowls
Decorative Pieces
Our square bowls represent our modern take on a traditional bowl. Working with the natural characteristics of the wood, these bowls are our most captivating pieces.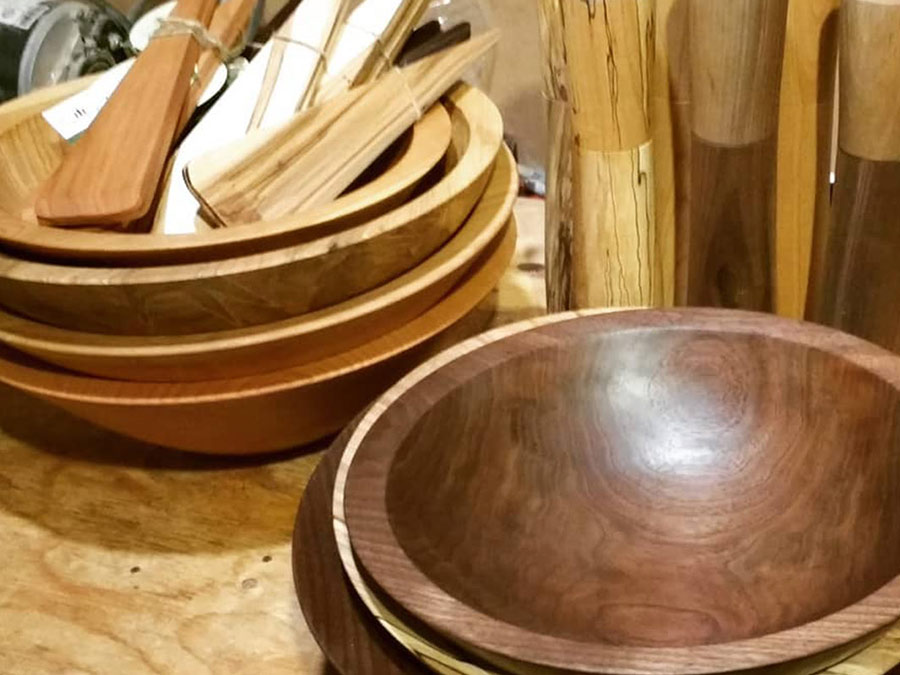 Kitchen Accessories
Food Grade
Whether it is a french style rolling pin, Muddler, Pestle, Salad Server or a Spice Mill, Simply Rooted, skillfully handcrafts these products from locally sourced reclaimed wood.
Spice Mills
Food Grade
Our modern salt and pepper/spice grinders offer sleek minimalist lines suitable for any décor. We use only the finest native Ontario hardwoods to make our grinders.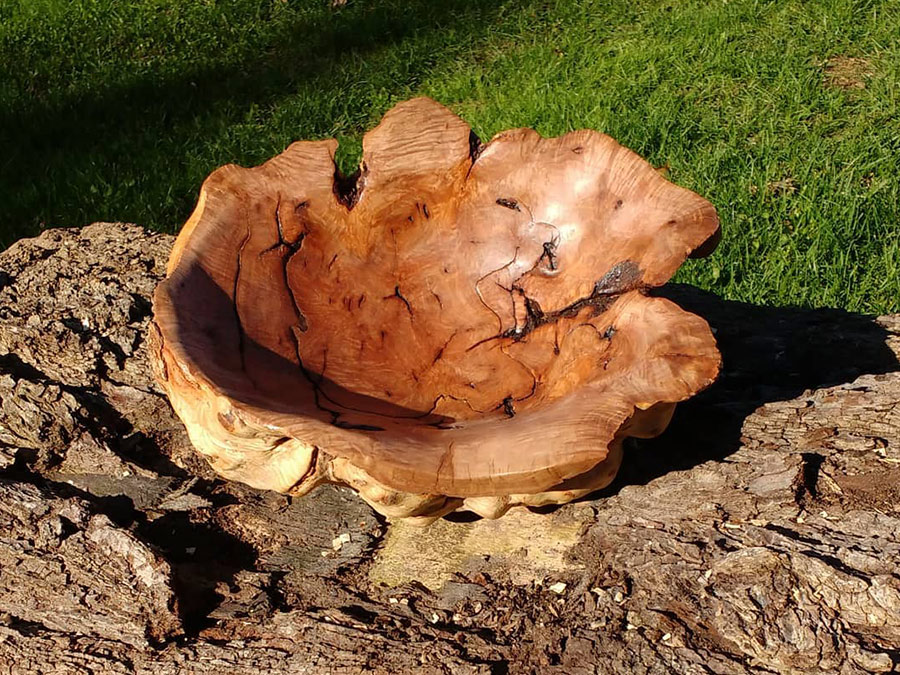 Burls & Bowls
Decorative Yet
Functional Pieces
Truly works of art, our burl bowls and carvings abound with rusticity and a connection to nature. Handcrafted from beautiful Ontario burl wood.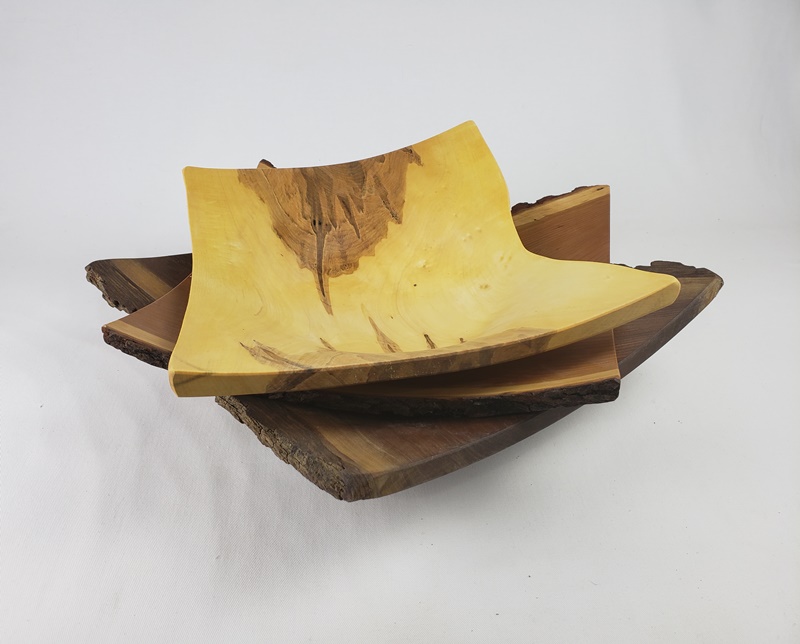 Bowl Seconds
Locally Sourced
Seconds come in walnut, cherry, ambrosia maple, the styles are Live Edge, Traditional Bowls and Square Bowls.  All Seconds are engraved with an 'S' on the base of our bowl.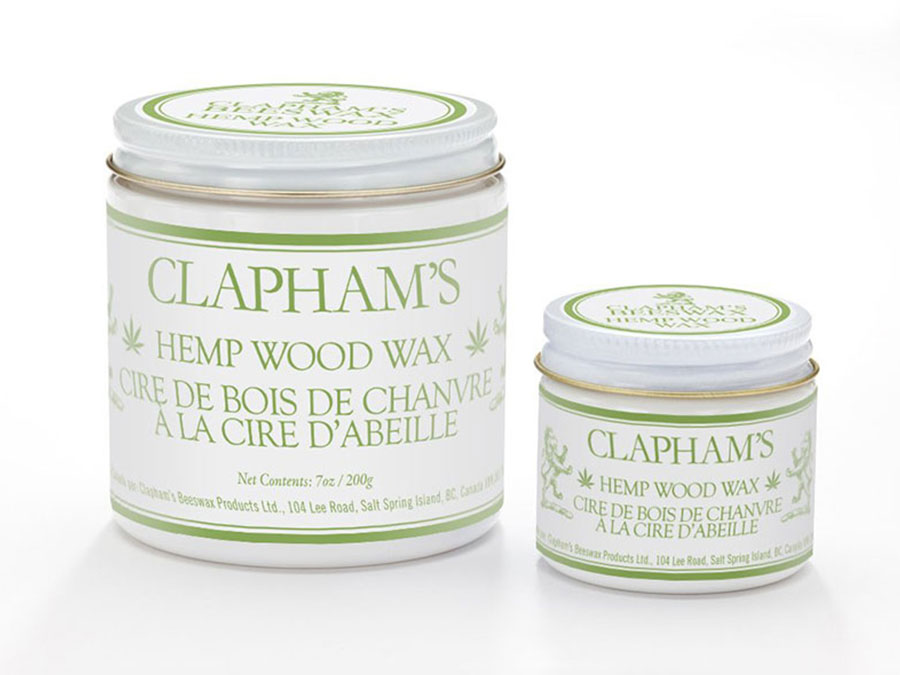 Wood Conditioner
Food Grade
To maintain and preserve the beauty of your Simply Rooted Woodshop wood product, it is a good idea to periodically recondition your wood with our Wood Wax conditioner.
Bowl Making Process
A key to our success is our use of locally sourced native hardwood species such as Walnut, Cherry, Ambrosia Maple and Sugar Maple.
Shop Simply Rooted Wood Products
Unique Handmade Wood Turned Items
Skillfully Handcrafted from Locally Reclaimed Wood. We source our raw material from reclaimed or salvaged city trees as opposed to obtaining logs from commercial logging operations.
This transaction has been a real pleasure, the seller is very responsive to any questions and ensured the bowl was mailed promptly.
The bowl is very beautiful, I'm going to have a hard time parting with it as a gift 🙂
This burl bowl is perfection. You can see the care taken in the carving, grain, colour and the polish. Simply rooted wood shop has a true artists hand. Visitors to my home all stop and comment on this piece of art.
Email Us
windekind@simplyrootedwoodshop.com
Monday-Friday 9-4,
Saturday by appointment.